October 27, 2020 • Issue 1,053
Rockpoint Group, Swig Co. Sell 1 MSF Office Complex in Oakland
PG&E will relocate its headquarters to 300 Lakeside, a nearly 1 million-square-foot office complex in Oakland, Calif. (Image courtesy of TMG Partners)
OAKLAND, CALIF. — Rockpoint Group and The Swig Co. have completed the sale of 300 Lakeside, a Class A office complex located in Oakland's Uptown District. A venture led by San Francisco-based TMG Partners acquired the asset for an undisclosed price. Rockpoint and Swig will retain an interest in the property on a go-forward basis. Terms of the transaction were not released.

Concurrent with TMG Partners' purchase of the property, the company entered into a long-term lease with Pacific Gas and Electric Company (PG&E) to relocate the utility's headquarters from its existing downtown San Francisco headquarters. The lease includes a purchase option for PG&E to acquire the property. <Read more>
Gap Inc. to Shutter 350 Stores, Transition Focus from Malls to E-Commerce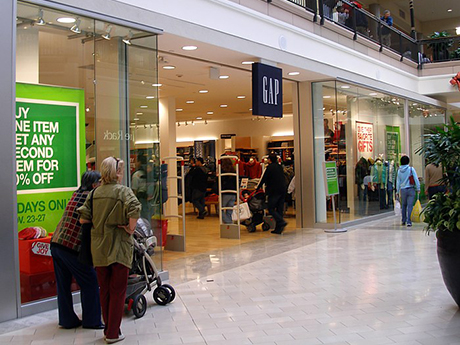 Gap Inc. has announced plans to close 350 stores under its Banana Republic and Gap banners in an effort to transition focus to e-commerce and off-mall retail locations. Pictured above is a Gap store at Westfield Valley Fair shopping center in San Jose, Calif. (Image courtesy of: Wikimedia Commons)
SAN FRANCISCO — Gap Inc. (NYSE: GPS), a longtime apparel tenant in enclosed regional malls nationwide, has announced plans to close 350 stores under its Banana Republic and Gap banners in an effort to transition focus to e-commerce and off-mall retail locations.

Store closures are scheduled for completion by fiscal year 2023, which ends Feb. 1, 2024, with 75 percent scheduled to close in 2021. By that time, the company expects 80 percent of its revenue to come from e-commerce and off-mall locations, including street-front retail stores and shops in strip and outlet centers. <Read more>
Brought to you by InterFace Conference Group,
a division of France Media.
Upcoming Webinars
Watch-on-Demand Webinars
Watch-on-Demand webinars.
In Case You Missed It
Donahue Schriber Realty Group Hires Michael Glimcher as CEO, President

Primestor Completes 114,431 SF Retail Portion of Jordan Downs in South-Central Los Angeles

Chipotle Reports $1.6B in Third-Quarter Revenue as Digital Sales Triple
More Regional News
CapRock Acquires Permit-Ready Site in Northern Las Vegas for 101,332 SF Industrial Development
Located in northern Las Vegas, CapRock Point @ Cheyenne will offer 101,332 square feet of build-to-suit flex industrial space.
LAS VEGAS — CapRock Partners has purchased a five-acre land site at 3919 E. Cheyenne Ave. in northern Las Vegas for the development of CapRock Point @ Cheyenne, a build-to-suit industrial asset. Terms of the acquisition were not disclosed.

The site is permit-ready for the construction of a freestanding, 101,332-square-foot, Class A industrial building, which CapRock plans to deliver within nine months of start of construction. Tenants will have the opportunity to customize building plans for the build-to-suit spaces.
Looking for daily CRE updates?
Connect with us on Twitter:
Prime Residential Acquires Agave Ridge Multifamily Community in San Diego for $107M
SAN DIEGO — San Francisco-based Prime Residential has purchased Agave Ridge, a multifamily property located in San Diego's Kearny Mesa neighborhood. Los Angeles-based Goldrich & Kest sold the property for $107 million.

Located at 7901 Harmarsh St., the 368,575-square-foot property features 369 townhome-style units in a mix of two- and three-bedroom layouts, with an average size of 1,000 square feet. On-site amenities include playgrounds, swimming pools and a fitness center. The property was originally built in 1959.

Kevin Mulhern, Allen Chitayat, Stew Weston, Dean Zander and John Montakab of CBRE represented the seller, while the buyer was self-represented in the deal.
Taylor Street Advisors Brokers $2.3M Purchase of Hayden's Ferry Apartment Property in Tempe, Arizona
TEMPE, ARIZ. — Taylor Street Advisors has arranged the acquisition of Hayden's Ferry III, a townhome-style multifamily community located in Tempe. An out-of-state private investor acquired the property from an undisclosed seller for $2.3 million, or $193,000 per unit.

Located at 720 S. Roosevelt St., the property features 12 two-bedroom/two-bath units. Brian Tranetzki and Anton Laakso of Taylor Street Advisors represented the buyer in the deal.
NorthMarq Brokers Sale of 260-Unit Alta Green Mountain Residential Complex Near Denver
LAKEWOOD, COLO. — NorthMarq has arranged the sale of Alta Green Mountain, a recently completed apartment community located in Lakewood, a suburb of Denver. Boston-based TA Realty acquired the property for an undisclosed sum.

Located at 13055 W. Mississippi Court, Alta Green Mountain features 260 apartments, a fitness center, private garages and an indoor/outdoor clubhouse with business center and outdoor lounge area. Completed in 2020, the property totals 250,640 square feet of rentable area.

Dave Martin and Brian Mooney of NorthMarq's Denver Investment Sales represented the undisclosed seller in the deal.
Have you read the September issue?
The Pandemic Brings Increased Demand for Some Spaces, Companies
Few would argue the devastating effects COVID-19 has had on the world. However, even in times of crisis, demand had emerged for certain product types and services.

Planning and Development are Two Sides of the Same Coin
Developments take time, investment, approval and tons of planning to create a viable product that can enhance an area.

Tangible Property Tax Pain from Intangible Assets
The difference between the value of real property and the value of the business operating at said property can have a huge impact on property taxes.

Top 5 Building Occupancy Questions During COVID-19
Landlord-tenant issues are top of mind right now as COVID-19 has changed the rules of the game nationwide.

Market Highlights: Northern California and Portland
Are you getting all the news you need?
France Media publishes 12 free e-newsletters, covering commercial real estate by region or with a focus on specific property types, including retail, student housing and seniors housing.